The Cobra-Ferrari Wars 1963-1965
Second Edition
By Michael L. Shoen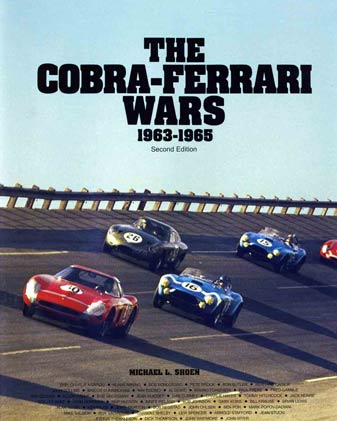 The True Story of Carroll Shelby's war against Enzo Ferrari, and the Cars and the Men who made Racing History.

"But Ferrari would never discuss the competitors' cars. He felt he gave to his drivers the car to win, and he was not concerned about the competition." -- Jean Guichet

"When I left the pits, the Cobra right away felt big and clumsy. As it accelerated through the gears it felt very fast, but it also felt like a piece of junk, a scary kind of combination." -- John Morton

"We were running neck and neck with the Daytona Cobra -- around 180 mph." -- Bob Grossman

"So every time I would see a red car coming up, I'd think, 'Oh shit. Now they are going to go by us.' " -- Bob Bondurant

"He (Ken Miles) was the best racing driver I ever worked for. We used to go to races with the man and I knew we were going to win. Have you ever had the feeling? I've never had that feeling since." -- Charlie Agapiou

"The GTO was the most beautiful-handling car I've ever been privileged to drive. The GTO had perfect balance, absolutely perfect -- the ballet dancer of motor cars. There was never an other car like the GTO. Never." -- Mike Salmon

"But the people who said that the 289 (Cobra) wasn't a good handling car didn't know what they were talking about. Compared to what?. That FIA Cobra handled like a dream -- and was fast too." -- Dan Gurney

"We knew, plus or minus, what capabilites of the Ferrari were, and we knew we would beat it. I knew that, if I could get the Daytona coupe Ferrari wouldn't be in business." -- Carroll Shelby

Original Reviews

"The year's best book about racing" -- Automobile. "Rarely does the past come alive as it does through the pages of this wonderful book. Absolutely brilliant" -- Classic and Sportscar. "Not only excellent, it is spectacular" -- Ferrari Market Letter. "Automotive history at an uncommonly high level" -- Car and Driver. "A real car-nut book" -- Motor Trend. "One of those rare books that you can enjoy over and over and then in ten years look back on as an investment" -- FCA Bulletin. "A great read" -- Supercar Classsics. "Scholarly quality while combining elements of drama, pathos, tragedy and victory at the highest and most engrossing entertainment level" -- Victory Lane. "You won't find anything better" -- The Shelby American. "A model of how racing histories should be researched and written" -- Prancing Horse. "Essential reference" -- Model Auto Review. "This book is so well done that every single primary source I know -- the guys who were there -- recommends it without reservation" -- Vintage Motorsport. "The definitive work on this subject" -- MotorWeek. "The extensive quotes from participants give the book its special flavor, the sense of oral history being passed along. You close it feeling you've met each of them, as Shoen did, face-to-face" -- Autoweek. "It's a miracle that his wife and children still let him in the house because he had to have put his life force into the creation of this fine work" -- Sports Car International. " Can't recommend it too highly" -- Thoroughbred & Classic Cars. "The only thing ever done on this that wasn't bullshit" -- Carroll Shelby.
Recent comments

"This book is magnificent." -- Charlie Hayes
"The finest book ever done about our lives." -- Dave Friedman
"A really first-class job." -- Steele Therkleson
"I felt a quarter-century younger after reading it." -- Tommy Hitchcock
"Thanks for having the determination to complete this excellent book with such great detail and accuracy." -- Billy Krause
"I didn't know where to start -- or to stop." -- Ray Geddes
"Without a doubt the best publication I have ever read on the Shelby cars." -- Al Dowd
"I'll treasure it." -- Lew Spencer
"A wonderful gift to the history of motor racing." -- Fred Gamble
"I'm thrilled; I'm buying five." -- Dan Gurney
"The ultimate reference for the many people interested in that golden era." -- Tottie Wyer
Winner of the Society of Automotive Historians' Cugnot Award and Classic and Sportscars' Book of the Year.
Contact CFW at:
6719 Malcomb Dr.
Paradise Valley, Arizona 85253 USA
480-703-7867 • michaelshoen@rocketmail.com